Boy oh boy do I hate me some Nebraska.
Since this is an historic rivalry more than anything else, let's start this by looking at the history.
As we all know, Miami won their first national championship following the 1983 season, beating Nebraska in the Orange Bowl in a massive upset. Kenny Calhoun knocked away a 2 point conversion attempt that would have put Nebraska ahead with less than a minute to play.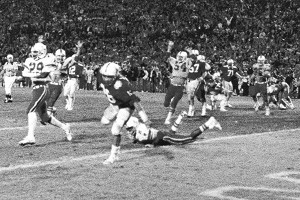 Had Nebraska merely kicked the extra point, they would have finished undefeated and still been awarded the title. So for years people have been gargling the Tom Osborne juice, celebrating the "courage" that it took to go for 2 in that situation.
I get it, it was ballsy. Hard to hate the guy for that decision alone. What I really hate, however, is the way it is talked about and the overall attitude it reflects.
First of all, courage is volunteering to serve in the military while the country is at war. Courage is running in to a burning building while others are running out. Tom Osborne deciding he wanted to go for a win instead of a tie so he could nail another pelt to his mahogany walls while wearing some, admittedly, *killer* red chinos? Well, I wouldn't necessarily put that on the same level. So spare me the deifying, Nebraska fans.
Nice pants.
Second of all, Nebraska fans think that they are God's effing gift to football. They brag about how they have sold out 3 million consecutive home games, and how on Game Day the stadium becomes the 2nd largest city in the state, and how they support their team through thick and thin.
Newsflash: Nebraska is the WORST. And I don't mean the university. I mean the state. It is literally a giant farm and Warren Buffett. That's it. And I get the rustic beauty and the true *America-ness* of it all. I love the God damned Chevy and Budweiser ads during the Super Bowl just as much as the next guy. But as someone who has lived in his fair share of small towns, I can personally tell you there is NOTHING to do there. Nebraska is like the Green Bay Packers of college football. OF COURSE THEY SELL OUT EVERY WEEK. There is nothing else to do. I know that this seems obvious and on the nose but I am not sure I am doing an adequate job of conveying the depression and desperation that comes with living in these places. You get to a point where you will look for literally ANYTHING to do to be around people and feel some sort of meaning in your life. Nebraska selling out every football game is like a drug dealer going to an NA meeting and bragging about clearing out his entire inventory.
Really, Nebraska's fanbase is a bunch of lonely red-staters (coincidentally?) wearing freakin' plastic corn cobs on their heads unironically. It would be pathetic if I didn't feel kind of bad for them.
Third of all, back to Tom Osborne. They paint this dude as Vince Lombardi if he exhausted Clive Owen's entire supply of liquid cocaine from The Knick. They elected this dude to the U.S. Congress when he retired; I guess they thought he was they sort of guy who could coach up this country.
After leaving Congress, he was their Athletic Director until 2012, and is still pretty much Nebraska's version of the Turkish or Pakistani army; the silent hand, the menacing hook sitting just off stage, ready to yank back the current coach/stooge on stage at any moment, installing martial law in his stead for a transition period before the next figurehead gets propped up.
The worst.
Osborne was part of a generation of coaches…your Joe Paternos, your Lou Holtzes, your Bary Switzers, your Gene Stallingses, your Jackie Sherrills…who yammered on and on about being leaders of men (Osborne even wrote a book about it) and developing these kids into real adults and looking down at Jimmy Johnson and Miami, who did it a different way and had no interest in pretending otherwise.
Look, Osborne's teams might have been paler in complexion and worn suits and ties in their team photos, but they were WORSE than anyone else in the country, and the same could be argued for any of those other dudes.
To wit: in 1995, Tom Osborne assembled arguably the greatest college team of all time. They killed everyone. Tommie Frazier, Lawrence Phillips, the famed "Blackshirts" defense at its peak…they were amazing.
Here are some of the guys that were on that roster
:
·
Lawrence Phillips, the Heisman hopeful running back, who dragged his girlfriend down the stairs by her hair. This would NOT be the first of Lawrence's legal issues.
·
Christian Peter, leader of the defense, had 8 convictions in 7 years (a remarkable efficiency rate) with the law during this time at school, most notably SEXUAL ASSAULT and grabbing a woman by the throat. Sidenote: AFTER all this Peter ended up getting drafted anyway and 3 different teams gave him a shot. Moral: talent is all that matters. Time is a flat circle.
·
Riley Washington, running back , stood trial for second degree MURDER during the season
·
Tyrone Williams, cornerback, stood trial for felony weapons charges
Osborne didn't discipline Peter. He didn't discipline Phillips. He said it was too important for them to have team structure in their lives...never mind the raping and woman abusing.

So yeah, Osborne TOTALLY wasn't just the same old rich white guy asshole as every other coach in college football. He TOTALLY did things the right way. Real leader of men, developer of character, all in all good guy. Build this man a statue…he did it the RIGHT WAY. So effing courageous!!!
Tom Osborne is essentially Bud Kilmer.
Miami has beaten Nebraska for the national title three different times, including in 2001. Since then, both teams have been on a long downward spiral into mediocrity after collectively running the sport for the better part of 3 decades. Who knew?
Nebraska currently has mongoloid Bo Pelini running the show. Greg Schiano, the biggest meathead coach to ever meathead coach, likes the cut of Bo Pelini's jib. Bo Pelini and Bret Bielema are destined to co-head coach a Division 3 program together some day. They will singlehandedly make the University of Wisconsin – Stout a powerhouse, playing real "hard nosed, smash mouth, grown man" football.
This dude would love nothing more than to make his star running back do 100 up-downs as punishment for having the balls to suffer a concussion. When Mike Leach locked Craig James' kid in the closet, Pelini couldn't figure out what the big deal was. And, knowing Pelini's brain capacity, he still doesn't understand why The Pirate was fired for it. The only thing missing is a widespread outbreak of Staph Infection in the Nebraska locker room.
There are really 2 names to know for Nebraska: Ameer Abdullah and Randy Gregory.
Abdullah is the Big 10's Duke Johnson. Explosive guy, can do it all, and really only needs a small hole to go the distance (that's what she said?). He hasn't been as great through 3 games as we all thought, but that is really more a function of his offensive line than anything else. Sounds familiar.
Gregory is a nightmare of a defensive end that will probably break someone in half. He missed a couple of games hurt but should be good to go for our game. Which is great, because our offensive line has been MISERABLE.
The game plan is to make their running quarterback stay in the pocket and beat us with his arm. The run defense needs to limit Abdullah. And the offense has to stay out of 3rd and long, because that is when Nebraska will pin its ears back and attack our right flank, which is made of balsa wood.
This game is essentially Louisville all over again. We will learn something about the mental makeup of this squad on Saturday night. Will the coaching staff handcuff the offense again? Will the defense play 4 solid quarters? Will Pelini and Golden sumo at midfield?
Time will tell. In the meantime, get your hate on.