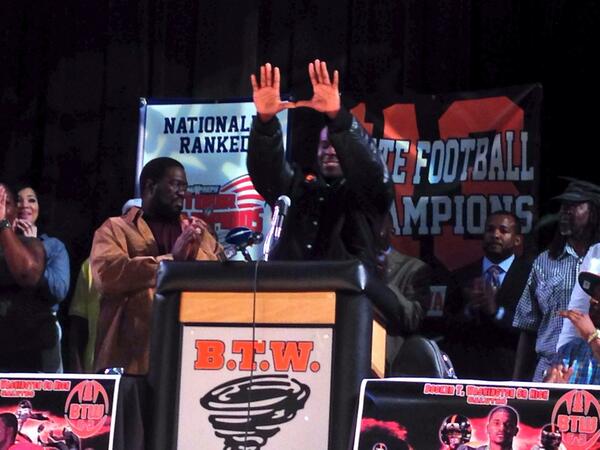 Hello All,
Another year, another set of high school heroes joining the program. Here are my thoughts.
I think this is the best class of the Golden Era. It has stars at the top, but is not top heavy. It has quality depth on the defensive front. It has potential franchise guys at QB, RB, LT, DE and MLB...more on that below.
I think this class has leadership, with kids like Joe Yearby, Braxton Berrios and Kiy Hester.
I think this staff gets an A for the first 11 months of this recruiting cycle, and an F for the last month. There are holes in the class at running back (lost Brandon Powell, did not close on Dalvin Cook, Sony Michel or Tavon Ross OR offer Madre London), OL (lost Reilly Gibbons at the last minute, did not have a Plan B ready to go) and in the secondary (did not close J.C. Jackson, let several local kids go without a fight, such as Juwon Dowels and Deatrich Nichols).
I think the staff needed to close one of Kyle Rudolph, Ermon Lane and Johnnie Dixon at WR.
I think that closing Travonte Valentine at DT would have taken this class from a B+ to an A.
All that said, as usual, the Canes fan base has swung too far in a certain direction. Most of the die hards, including myself, have been very negative lately, and rightly so. However, that has clouded the judgement of many toward this class. There is a LOT of talent here. Whether it will be developed...we don't know. Whether it will be maximized...we don't know. But this is how a Canes class SHOULD look.
National Signing Day was boring, because we did not add anyone to the class, but an early commitment does not diminish the talent. Recruiting is a fickle beast. Fans want great players to commit early, but then as soon as they do, the gleam comes off and all that matters is the next kid. I think that is regrettable.
Without further hesitation, my take on each of the guys that signed with Miami today, guys that all Miami fans should be very happy to have.
QB
Brady Kaaya (Mission Hills, CA)
Kaaya is a "leader" of this class. As soon as James Coley came over as offensive coordinator, Kaaya's name jumped to the top of our recruiting list. Kaaya is a late bloomer, but all it took was one look at his tape to realize this was a player with the potential to be special; tall, with a frame to support more weight, and the ability to throw it with accuracy both in the medium and long passing games. He committed early on, choosing Miami over Oklahoma State. He then went to Elite 11 camps and proceeded to put on a show, rising to a Top 200 prospect and consensus 4 star almost overnight. Along the way he began recruiting his butt off for the Hurricanes, realizing that if he wants to win he needs weapon around him, on both sides of the ball…played a big part in the recruitment of Braxton Berrios over the summer.
Miami held off late surges from the hometown duo of USC and UCLA as Kaaya lead his team to a state championship and shined in the Semper Fi All American Game. Absolute stud that will square off with Kevin Olsen for the starting job in the future.
Malik Rosier (Mobile, AL)
Rosier is a developmental type at QB with nice athleticism. He is short, but that does not matter as much in James Coley's open offense. He is a dual threat quarterback that also had a great tape at safety…I want to see him have his own package in the Red Zone from Day 1, similar to how Duke used that big white guy last season. Chose Miami over Tulane. Early enrollee.
RB
Joe Yearby (Miami Central)
Yearby, a local legend mentioned in the same breath as Duke Johnson since his days in Optimist ball, is an absolute stud. Comparison that I heard and liked was Warrick Dunn. He has been ultra productive for a long time, and has the ability to run physically between the tackles, use moves in the open field, and catch the ball out of the backfield. Broke his ankle late in his senior year and was unable to contribute to his team's 2nd consecutive state title run, but if he is healthy and on campus he will be an absolute nightmare as a complement to Duke Johnson. Committed to FSU early but flipped to Miami when James Coley came over to the light side of the force. Early enrollee.
WR
Braxton Berrios (Raleigh, North Carolina)
Berrios is a small, incredibly quick slot receiver that could end up the best friend of Kaaya and Kevin Olsen. He played quarterback in high school but should be able to contribute right away at receiver and on special teams. He plays with a chip on his shoulder that will serve him well, as was on display in the Under Armor All American Game, where he made several big plays, including a touchdown after returning from a tweaked knee…which ended up being a torn ACL. Will most likely have to redshirt as he rehabs. Chose Miami over South Carolina, Tennessee, Ohio State and Oregon. Early Enrollee.
Tyre Brady (South Dade)
Brady is a big, fast receiver (6'3", 180 lbs) that is kind of an Urban Legend. He has been talked about for years, and yet no one has seen tape for the kid. Part of that is because he bounced around to a bunch of different schools (READ: CLEARINGHOUSE ISSUE) and at one point even moved to Texas. Apparently when he does play, he is compares favorably to Ermon Lane, the top rated receiver prospect in Florida for this class that is also from Homestead. He at one point committed to Kentucky and had reported offers from UiF and FSU, but no one really knows much about this kid to be honest. Coaches liken him to Allen Hurns, but slightly more explosive.
Darrell Langham (Santaluces High)
Langham came into one of Al Golden's summer camps as a little heard of prospect, and left as a Miami commit. Was also heavily chased by FSU, because at 6'5", 200 lbs, with run after the catch ability and sure hands, what Langham lacks in name recognition he makes up for in potential. Watching his tape recalls images of Tommy Streeter almost immediately. Was a steal when the staff jumped on him, and very quickly rose to 3 star status after his commitment. Could be the most underrated player in the class when all is said and done.
TE
James Herndon (Norcross, GA)
Herndon is a big athlete at 6'4", 230 lbs. He came into Al Golden's summer camp with an offer from Mississippi State to his name and little else in the way of recognition, and left as a Miami commitment, and the 'Canes staff continues to extend its reach in to Georgia. Is a big time athlete that was fast enough to get behind the National Champion Booker T Washington defense multiple times in their game; many consider him one of the biggest late risers in the nation. Could also play defensive end/JACK Backer.
David Njoku (Cedar Grove, NJ)
Njoku, another Jersey boy, is a hybrid big receiver/ Tight End that will probably grow into the same H-Back type as Herndon. Good looking athlete at 6'4", 220 lbs, but very raw and will need a redshirt. Originally committed to Rutgers, but chose Miami over Ohio State and Penn State in the end. Hopefully turns into a Dedrick Epps – type.
OL
Trevor Darling (Miami Central)
Darling was Miami's first commitment of the class and never wavered. He is a massive prospect who could be a mauler at guard or right tackle. Plays with absolute reckless abandon and tenacity…all the things you want in your offensive front. Dominated in practice at the Under Armor All American Game. Had offers from everyone. Early enrollee.
Nick Linder (St. Thomas Aquinas)
The younger brother of Brandon Linder, Nick is arguably the top center prospect in the state of Florida. Chose Miami early on and shut down his recruitment. Proved instrumental in landing Kc McDermott.
Kc McDermott (American Heritage)
Considered the top OL prospect in the state, McDermott is huge at 6'7", 310 lbs and should compete for immediate playing time. The younger brother of current Cane center Shane (Who is best friends with Brandon Linder), McDermott looks to be the linchpin and leader of the future Canes offensive line. Was the best lineman at the Under Armor All American Game. Has been compared to Jake Mathews of Texas A&M, a player that will likely go in the Top 5 of the coming NFL Draft. Chose Miami over Notre Dame. Early enrollee.
DL
Trent Harris (Winter Park High)
Canes history is filled with stories like Lamar Thomas and Clinton Portis. Both men grew up in North Central Florida as fans of their hometown team, the Florida Gatas. Neither was wanted by the Gatas, so they came down to Miami and became legends. Harris is the next guy to attempt the feat. Harris is a compact (6'2", 235 lbs) defensive end that is aggressive in getting after the ball. He is yet another player in this class that will just straight up get after the ball. Grew up a Gata fan, but committed to Miami when UiF took the commitment of Justus Reed in his place. His other finalist was Ohio State. Reminds quite a few people of Olivier Vernon coming out of high school. Early enrollee.
Calvin Heurtelou (Scottsdale C.C.)
This JUCO transfer was a surprise signee that could see immediate time as a strongside end, and possibly down the road at nose tackle. He will be a solid depth guy right away and probably step immediately into the 2 deep. Chose Miami over Mizzou and Tennessee. Early enrollee.
Demetrius Jackson (Booker T Washington)
Jackson is a super athletic defensive end prospect that had never played football before spring of his junior year of high school. After tape of his 5 sack spring game performance made the rounds, Jackson's recruitment blew up, and kept getting bigger as he started impressing on the field, memorably dominating Georgia Norcross on national television. He committed to Randy Shannon at Arkansas before flipping to the hometown 'Canes. His recruitment was all over the place, and several times it was rumored that he had decommitted, but the important thing is the Canes captured this high ceiling prospect. Will probably need a year to gain weight but could become a dynamic pass rushing outside linebacker. Unrelated, but had 35 rebounds in a high school basketball this season.
Courtel Jenkins (Wayne, NJ)
This was the best player at the Chesapeake Bowl All Star Game, and he has been a Cane for a long time. Jenkins is a nose tackle prospect that plays low to the ground and with good burst. Chose Miami over Ohio State, Penn State and Pitt; his production will most likely start 2-3 years down the road.
Anthony Moten (St. Thomas Aquinas)
Prototypical kid you bring in for a 3-4 look that can play end in the base package or slide inside and rush the passer on 3
rd
down. Much wider than I thought, and was double teamed the entire game at the Semper Fi All American Game…although that didn't stop him from recording a sack. Was considered a Miami lean since his junior year of high school, then shocked everyone by committing to Florida. Backed off his commitment and then chose Miami over Florida State in November.
When all 3 schools in the Big 3 are on your tail, you bring something to the table. Stood next to him in line at a port-a-john after the UiF game and my buddy Trent said "can't wait to watch you next year." Pretty sure that's what wrapped him up.
Chad Thomas (Booker T Washington High)
Thomas is one of the stars of this class and my favorite prospect. He is a lanky speed rusher with surprising strength, as evidenced by him pancaking Damien Papa, a 360 lb guard, at Nike's The Opening camp. His best days are ahead of him, and he will certainly add a lot of muscle to his 6'5", 245 lb build. The future of the pass rush is in good hands as Thomas joins Quan Muhammad and Tyriq McCord, among others, coming off the edge. Thomas is a true DE but has the versatility to play as a linebacker at times or slide inside to tackle on passing downs. Chose Miami over Louisville, FSU and Alabama; had offers from everyone.
Michael Wyche (East Los Angeles C.C.)
Wyche is a huge nose tackle prospect that was originally committed to Ed Orgeron at USC, then flipped to Miami the day the NCAA sanctions were announced, then decommitted for 48 hours late in the process due to an ACC rule that said he hadn't been at JUCO for long enough and needed another semester, and then decided to ride it out…this seems far from a done deal. If he makes it to campus, as 6'4", 330 lbs he has the size to play immediately if he is in shape. Barry Jackson reported that Canes coaches feel he would have been the best lineman on the team LAST season, and therefore should figure in early. Former gang member who seems very grateful for his opportunity.
LB
Terry McCray (Pompano Beach Ely)
McCray was a productive high school player (13 sacks his senior year) whose skill set is similar to that of Mike Smith. McCray has projectable size (6'3", 225 lbs) and will have to learn to play more in space if he hopes to become an everydown linebacker and not just a pass rush package / special teams player. Cousin of one of the great over achievers in the history of the program, Teraz McCray. Chose Miami over LSU.
Darrion Owens (Oakleaf High)
One of my favorite recruits in this class. He did 3 semesters worth of online course work in 6 weeks in order to enroll early, spending 12-15 hours a day at this computer, even sneaking in homework cram sessions during the practice week for the all star game he attended in California. This Jacksonville product has possibly
the highest ceiling of anyone in this class. He is a rangy, athletic linebacker that played safety until his senior year of high school, when he outgrew the positon. Miami fought off Georgia, Auburn and Ohio State for Owens' services, and he should be devastating as a SAM linebacker, as his off the charts athleticism should remain intact even as Owens gets to the 240-250 lb range.
The easy comparison is Alec Ogletree but also possibly the most accurate for this type of prospect. Not ready to play right away, as he needs a lot of weight and to acclimate to the linebacker position, as was apparent at the Semper Fi All American Game, where he was unable to make much of an impact. Early enrollee.
Mike Smith (Miami Northwestern)
Smith was a pass rush specialist in high school. Miami sees him as a pass rusher whose athleticism may enable him to play middle linebacker down the road; for now, he will play the hybrid pass rush role occupied by Tyriq McCord. Smith is one of the good kind: a head nodder that wanted to be a Cane, committed early and then shut his mouth. Chose Miami over FSU, Clemson and West Virginia. The comparison most often made on the message boards is to Bruce Irvin or Vic Beasley.
Juwon Young (Albany, GA)
Young is a "southern savage". He combines great athleticism with a hatred of ball carriers in his 6'1", 230 lb frame. This is the type of middle linebacker that made Miami feared by all receivers going over the middle. Initial grade concerns lead to a slow start to his recruitment, but his ability was never in question. Maybe the most underrated prospect in the class. Chose Miami over UNC. Early enrollee.
DB
Marques Gayot (Park Vista High)
Gayot is a physical safety prospect from Palm Beach county. The one thing that jumps off his tape is his explosive hitting. He may be limited in his range down the road, but at worst is a solid backup that can be a core special teams guy and crack down on running backs. At safety, where depth is a MAJOR issue for this squad, that is a good thing. Chose Miami over Louisville.
Kiy Hester (Wayne, New Jersey)
Hester, a teammate of Courtel Jenkins and good friend of current 'Cane Al – Quadin Muhammad, is one of the top safety prospects in the nation and could see early playing time. He is physical, but also very rangy…major ballhawk potential. Major upgrade, immediately, from the Kacy Rogers / AJ Highsmith duo, and will compete with Deon Bush, Reyshawn Jenkins and Jamal Carter for playing time. Decommitted from Rutgers and chose Miami over Michigan State (which is a GREAT sign).
Jimmy Mayes (Miami Northwestern)
Was a complete unknown until he came to Golden's camp and won DB MVP for the day, making himself a 3 star prospect over night. Lanky athlete (6'1", 170 lbs) and seems more like a glider than a sprinter, but Mayes shows playmaker ability and looks like the type that you redshirt and let develop for 2-3 years before throwing him in to live fire. Could be a corner or safety. Chose Miami over Syracuse, FIU and FAU. Early enrollee.
ATH
Trayone Gray (Carol City High)
99% sure this kid will end up in Prep school or JUCO. Gray is a sudden, explosive athlete with a ready-to-go body (6'2", 205 lbs) that will play either receiver, running back or safety for Miami. Another player who emerged from off the radar to grab an offer, a look at his high school tape shows you an ultra athletic quarterback that has the physical abilities and frame to live up to the player he is most often compared to: Anquan Boldin. I like him best as a running back (he was a running quarterback and this is the closest thing to that), but there is no denying his potential impact at safety or receiver. Much like Darrion Owens, has incredibly high upside. Grades concern, which is probably why his offer sheet didn't blow up.
SUPERLATIVES
5 Blocks of Granite
Kaaya – Potential franchise QB
Yearby – Leader and heir apparent to Duke Johnson
Darling – Leader, and a mauler
Mcdermott – Franchise tackle
Thomas – The Kracken, an elite pass rusher that can come from all angles
Sleepers
Gray – Comparisons heard frequently, depending on who you listen to: Anquan Boldin, Darren McFadden, Nick Marshall
Young – Just a beast of a middle linebacker who has flown below the radar
Herndon – Big, fast, athletic…all the traits you look for when you want to find your version of Eric Ebron; doesn't hurt that he comes from a two time state championship program
Brady – Allen Hurns comparisons
Rosier – No one talks about him, but scouts seem quite enamored
Best Quotes
"The Urban Meyer thing was just funny to me. He came to my school a week after I told his assistant that I wasn't even interested in them. I told him no to his face, and it's got to be one of the top five reactions of someone ever. His facial expression was just so funny. My coach was tearing up and had to go in his office and laugh. It literally looked like a kid the first time you tell him 'no, you can't do something'. It looked like he was a baby about to cry. It was so funny." – Kc Mcdermott…even if he never pans out, he is a legend forever.
"Congratulations to everyone that will officially become a Hurricane tomorrow and for those that aren't *******" – Artie Burns …Note: Exactly 7 asterisks
"Canes haters need to cool it with that ish. Canes comin' strong in 2014." – Joe Yearby…you might not agree with him, but it is good to hear anyway.
"Blessed to be compared to the Miami greats, but no disrespect I'm tryna be the best DB to come out of Miami ever!! I'm working" – Kiy Hester…solid used of 'blessed', although more hash tag would have been nice.
"I will be attending the University of Florida State / Louisiana State University" – Too many to name…seems fitting, given their school selections.
"The bad boys of football are back. Like it or not, get ready for it."
-Braxton Berrios…strong.
"This ain't a boy's game, that's why I made a Man's decision. And being a Man I will always stand by my word. I'm a Cane."
-Braxton Berrios… very strong.
"Never would have thought this growing up on 17th street…my people got something' to be proud of…my family something' to be proud of…UM stuck by me when I had no stars, they saw something in me, they saw the potential, and that showed out later in the season…it's exciting man." – Demetrius Jackson, through tears. Great moment.